History of the Martin-Baker MB5 Airplane
An amazing story about one man's dream which never quite succeeded, but still creates curiousity today.
(This story is from Rolls-Royce, Ltd., in-house magazine, "The Rolls-Royce Magazine," issue no. 86, Year 2000. The author is Philip Jarrett. It has been edited to fit this page.)
Starting the Project
By Philip Jarrett

Asked to name outstanding Second World War fighters, most people would probably cite the Supermarine Spitfire, Hawker Hurricane, North American Mustang, Messerschmitt Bf 109, Focke-Wulf Fw 190, Mitsubishi Zero and Republic Thunderbolt. Mention of the Martin-Baker MB5 would probably produce a blank expression. This is hardly surprising, as only one MB5 was built. But it was an outstanding aeroplane in many respects, and, had its evolution been less protracted, it might have well been numbered among the greats.
Nowadays, the Martin-Baker Company of Denham, in Buckinghamshire, England, is famous for the ejection seats that, to date, (as of 2000.); have saved no fewer than 6,781 lives. It is less well known that, between 1934 and 1945, the company designed and built four innovative aeroplanes, three of which were fighters.
The MB1, which first flew in the spring of 1935, was a two-seat light touring monoplane incorporating novel structural techniques in its fabric-covered all-metal airframe. It was followed in 1938 by the MB2, a private-venture single-seat monoplane fighter, designed with ease of construction and maintenance in mind -- a concern of company founder, James Martin (later Sir James). The MB3, a retractable-undercarriage single-seat fighter armed with six 20mm Hispano cannon and powered by a 2,020hp Napier Sabre II 24-cylinder 'flat H' engine, made its maiden flight on August 31, 1942. However, disaster struck on September 12 when its engine cut out on take-off and the aircraft crashed and burst into flames, killing Captain Henry Baker, James Martin's friend and partner, who were the company test pilot.
"Outstandingly Well Designed", according to A&AEE report
The A&AEE report praised the MB5 in unusually glowing terms, using a generous number of superlatives. The 1900 Griffon 83 engine with its deHavilland contra-rotating propeller was carried on a special mounting that made removal simple, and all of the cowling panels were also quickly removable, laying the engine completely bare 'within a few minutes'. Access to the carburetor main auxiliary gearbox, ignition system and Coffman cartridge starter was easy. All of the coolant radiators were enclosed within the rear fuselage, using a common intake and a controllable efflux.
Likewise, the fuselage panels were quickly detachable, allowing imimediate access to all parts of the aircraft's structure and the accessories and equipment. Every strut or member of the tubular fuselage frame was easily accessible and simple to replace in the event of damage. Fuel was contained in two tanks, one of 70 gallon capacity in front of the pilot, and another, holding 130 gallons, behind him.
The cockpit layout was described as 'excellent.' Martin-Baker's patented control assembly could be removed en bloc by withdrawing a few bolts, without affecting the control settings. All three instrument panels, one in the center and two at the sides, hinged fully forward when two quick-release handles were undone, permitting instruments to be changed with the minimum of effort. The instrument panel layout was 'splendid.' there were no protrusions to snag clothing, and the cockpit was fully floored, enabling it to be cleaned out in minutes. The one-piece canopy was 'beautifully fitted', and its 'perfectly balanced' mechanism was operated by a small wheel control. Disconnection of the three main attachment bolts enabled the all-metal stressed-skins to be easily removed. Quickly opened bays in the upper surfaces gave access to the two 20mm Hispano cannon in each wing, with 200 rounds per gun fed by a Martin-Baker flat-feed mechanism. A servicing platforom could be attached to ease the armourer's task.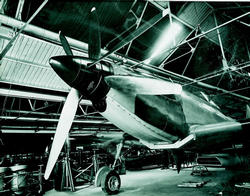 MB5 Parked in hangar
The MB5 was just as wonderful for pilots as it was for ground crews. Subsequent A&AEE handling trials showed that it was 'easy and pleasant to fly', being 'highly rated by all pilots as regards its flying qualities.' It was thought that its 'steady flight behavior, good control and excellent view' would make it a very good gun platform. At 20,000 feet the MB5 attained a maximum leve speed of 460mph, and it could manage 395mph at sea level. It could climb to its operational ceiling of 35,000 feet in 15 minutes, and its rate of climb at 7,000 feet was 4,000 feet/minute.
The breathtaking demonstrations of the MB5 by skilled Polish aerobatic and display pilot, Squadron Leader Jan Zurakowski, during the 1946 Farnborough Air Display were the high points of the event. Zurakowski said it was 'the best airplane I have ever flown', and asked why it had not been put into production during the war. Pilots who sampled the fighter for the magazines Flight and The Aeroplane in late 1947 were generous in their praise of its handling and maneuvrability.
Rolling out of hangar for test flight
Martin was devastated by the loss of his partner, but he was a determined man. The Air Ministry had drawn up Specification F.18/39 for the MB3, which was intended as a potential successor to the Hurricane and Spitfire in the Royal Air Force. The engine preferred by Martin had been the nascent Rolls-Royce Griffon, and it was planned to install this in the second of the three MB-3s ordered. Unfortunately it was not available in time, and the ministry selected the much heavier, Sabre as an alternative, much to Martin's disapproval.
There was much haggling after the tragedy. The upshot was that, due to Martin's persistent urging, the second and third machines were redesigned to have the Griffon, as well as incorporating many other changes that Martin regarded as essential, and redesignated MB5, (The MB4 was an unbuilt Bristol Centaurus-engined variant). In addition to an intended high top speed of at least 400mph, the MB3 had been designed for exceptional serviceability, and this feature was retained. Late in its short life the MB3 had been fitted with a bubble canopy. Martin kept this, and further improved the pilot's view by moving the cockpit forward some five feet.
The trouble was that James Martin, the aircraft's sole designer, was a perfectionist, and the MB5's design and construction became a protracted process. The third aircraft was eventually cancelled, and the delivery date of the second slipped repeatedly. It was initially due to be handed over on January 1, 1943, but it did not go to the Armament Experimental Establishment (A&AEE), at Boscombe Down for official trials until late February 1946.
In fact, the MB5 made its maiden flight long before that, at RAF Harwell on May 23, 1944. The pilot, Bryan Greensted, Chief Test Pilot for airscrew manufacturer Rotol, found it directionally unstable, and it was not flown again until several months of lamentably slow work on the rear fuselage and tail services had remedied this. Nonetheless the MB5's outstandingly fine structure and accessibility won the approval of Sir Stafford Cripps of the Ministry of Aircraft Production
A Sad Ending to the MB5
Although the MB5 did little flying after this, the engineless airframe was used for training purposes by the Air Ministry Servicing Development Unit at RAF Wattisham, Suffolk, from 1948-49. The aircraft subsequently served as a ground target, the battered remains ending up at RAF Bircham Newton, Norfolk, in 1963. It was then burnt; an ignominious fate for an aircraft that represented the acme of piston-engined fighter development.
Philip Jarrett has been writing on aviation history for some 33 years, (as of 2000), and contributed to the very first issue of the Rolls-Royce magazine. He was assistant editor of the Royal Aeronautical Society's newspaper Aerospace, assistant editor of Aeroplane Monthly and production editor of Flight International before he became a freelance writer, editor and consultant in 1990. His biography of British aviation pioneer Percy Pilcher, Another Icarus, was published in 1987.
Picture below shows Mechanic preparing the MB5, before plane will be taking off on test flight in 1944.